Safeguarding the Future Generation
Author: Emily Prest, GSAS '23 and Student Fellow, Georgetown Collaborative on Global Children's Issues in collaboration with Joan Lombardi, Senior Fellow, Georgetown Collaborative on Children's Issues
Children bear the most severe threat that climate change poses to humanity. The children of today and tomorrow are inheriting a world riddled with poverty, food and water insecurity, illness and environmental degradation — all of which climate change will further intensify. 
Children often find themselves in vulnerable positions wherein — on a physical level — their bodies are not as resilient to environmental stressors like adults, and — on a political level — they lack the agency and political influence to successfully advocate for combating climate change and ensuring a decent future for themselves. 
Climate change can increase a child's exposure to allergens, extreme heat, insect-borne disease and contaminated water, creating greater risk to the developing child by threatening sickness or death. Further, undernutrition is likely to be the leading cause of child mortality resulting from climate change. 
Children growing up in developing nations are even more vulnerable to the impacts of climate change. These countries are the least responsible for the volume of legacy global greenhouse gas emissions yet find themselves more vulnerable to the negative effects of climate change. The children of low-and middle-income countries will have to face greater "damage to health and human capital, land, cultural heritage, indigenous and local knowledge, and biodiversity as a result of climate change."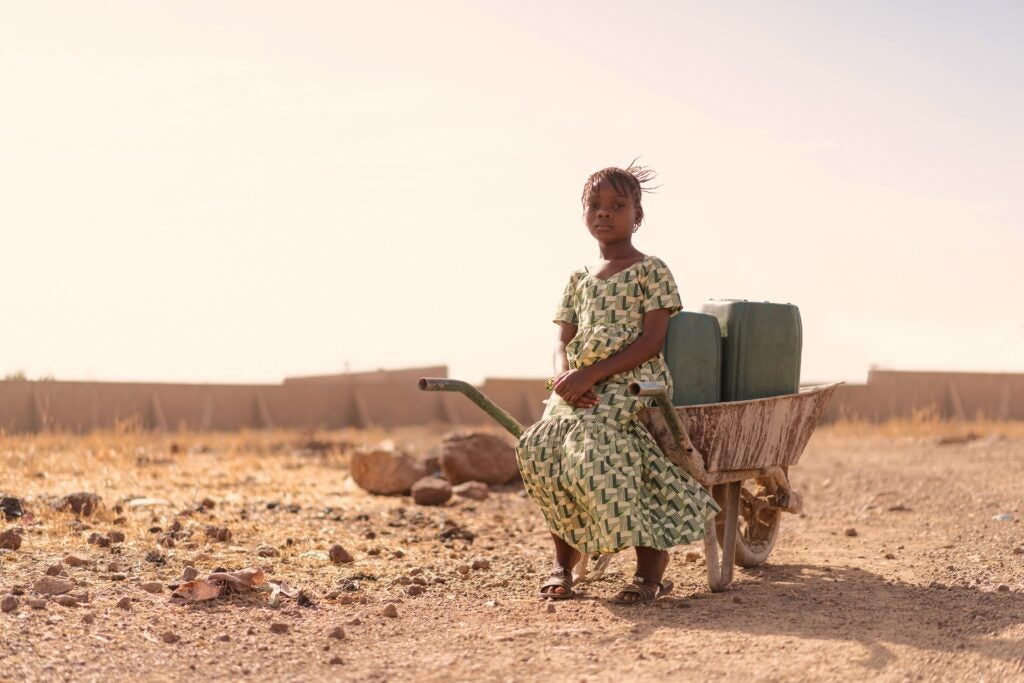 Some effects of climate change are already being felt across children today. 
In 2019, 80 million people — 30-34 million of which were children — were displaced due to conflict, climate change, and natural disaster. 
It is also estimated that at least 33 million people — 16 million of which are children — in East and Southern Africa are at emergency levels of food insecurity due to climate change. 
The circumstances surrounding our changing climate are not at the fault of children, yet in a survey of 10,000 children and young people across the globe, over 50% of respondents reported the emotion of "guilty" in association with climate change. 
The stressors of climate change are evident and climate anxiety is prevalent across our children, causing acute psychological distress. 
Action Emerging on Climate and Children
We are faced with a critical threshold; if we manage to stay at 1.5 degrees Celsius above pre-industrial levels, we could avoid the more severe and intense climate impacts that 2 degrees Celsius would deliver. To do so, carbon dioxide emissions need to be reduced by 45% by 2030 and reach net zero emissions by 2050. 
The fate of our world is contingent upon how well policymakers – alongside citizens and business – across the globe respond to this irrefutable science. 
While much work needs to be done, some steps are being taken to raise awareness on the impacts on children. 
In 2021, the United Nations Child Rights Committee ruled that "emitting states are responsible for the negative impact of the emissions originating in their territory on the rights of children – even those children who may be located abroad."
Efforts to include the climate crisis within educational settings and academic curricula are also making headway. Summits, such as the Glasgow Climate Education Summit, are being organized to better brief policymakers and researchers on how to thoughtfully address and incorporate climate into meaningful conversations. 
Some of our world leaders have also pledged to consider children more carefully in climate change discussion. In 2019 and the 25th United Nations Framework Convention on Climate Change of Parties, 28 member states signed the "Declaration on Children, Youth and Climate Action," pledging to "accelerate inclusive, child and youth-centered climate policies and action at national and global levels." 
In the United States, detrimental environmental impacts associated with children's health were emphasized on a federal level via President Bill Clinton's Executive Order on the Protection of Children from Environmental Health Risks and Safety Risks. Under this Executive Order, all federal agencies are required "to assign a high priority to addressing health and safety risks to children, coordinate research priorities on children's health, and ensure that their standards take into account special risks to children." Further in 1997, the Environmental Protection Agency's Office of Children's Health Protection was established, armed with the goal "to ensure that all EPA actions and programs address the unique vulnerabilities of children." 
Youth Taking Action
Children have also been taking a stand, fighting for their rights by protesting and starting youth-led organizations aimed towards tackling the climate crisis. 
In Zambia and Zimbabwe, adolescent girls produced a research paper analyzing the impact that climate change has on a girls' education, to which they found that floods, shifting rainfall patterns and recurring drought will likely result in increased school dropouts and early and forced childhood marriages in the region. 
In the Caribbean, young women and girls are being mentored on the intersections between climate change, youth advocacy and the global feminist agenda, and what that means for their respective communities. 
Internationally, through groups like Fridays for our Futures, Zero Hour, and Extinction Rebellion Youth, children have organized protests and increased accessibility to the climate movement to make their voices more widely heard while calling on governments to take greater action. 
Conclusion
Children will unfairly have to manage and adapt to a world ravaged by runaway climate change. They should not have to pay the price of our costly, selfish, and unsustainable habits that have forced the most adverse effects of climate change upon unwilling and unsuspecting future generations. 
When it comes to climate awareness and advocacy, the voices of our children should not be dismissed, but rather amplified. These children have traded their naivety as our world falls victim to a changing climate, trying to fill the gap that policymakers across the globe are failing to properly address. Protecting them is, at the most basic level, a moral obligation – and one we are falling short at fulfilling.
Joan Lombardi is a senior scholar at the Center for Child and Human Development and was the Deputy Assistant Secretary, Early Childhood Development, at the U.S. Department of Health and Human Services. 
Emily Prest is a second year Master's student at the Environmental Metrology and Policy (EMAP) Program at Georgetown's Graduate School of Arts and Sciences.