Statehood Denied
The burden on the environment and DC's minority residents
Author: Sadie Morris, SFS '22 & Common Home Editor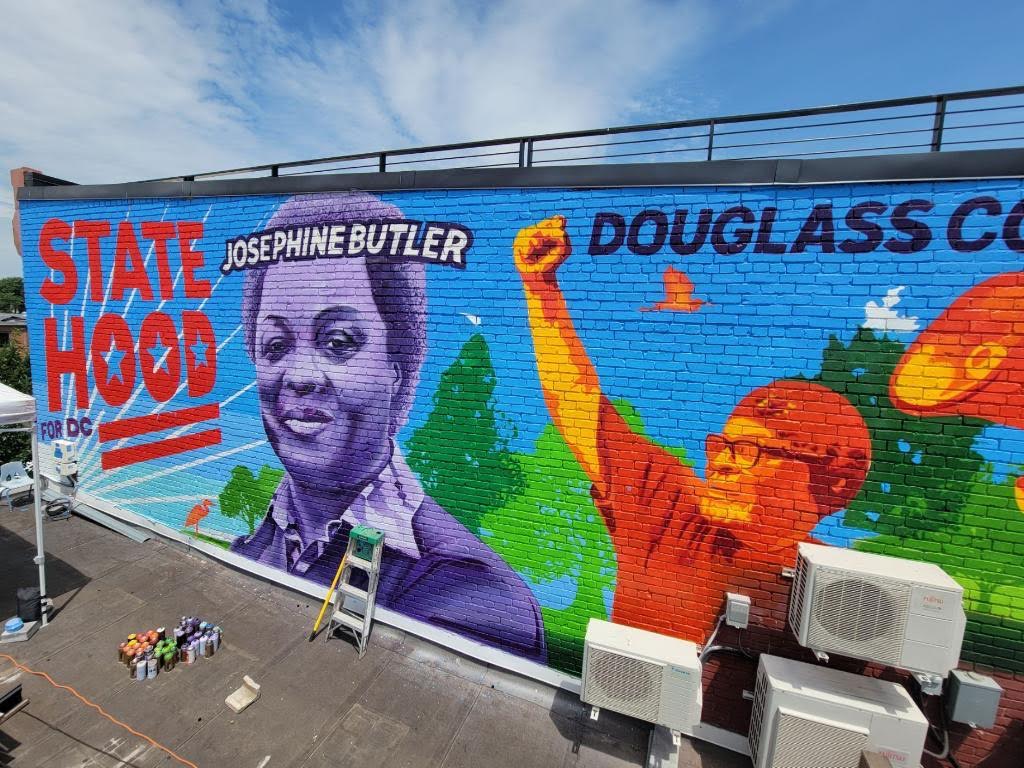 Washington, D.C. is simultaneously one of the most visible and most unseen cities in the world. While it is at once the stage for national mass movements and the fighting ground of the nation's political and judicial leaders, it is also a city of 717,000 people, all of whom have been without the basic right to representation in Congress. 
This grossly undemocratic reality – at the core of America's democracy – dates to Washington's establishment as the nation's capital in 1790. For a country born out of "no taxation without representation," the situation seems palpably unjust. Even now, the most recent statehood bill is stalling in the Senate. Why? The answer lies in a racialized history that continues to affect the day-to-day life of D.C. residents in many dimensions. 

Environmental justice is a large, and overlooked, casualty. Justin Kwasa, the Voting Rights Program Manager from the League of Conversation Voters puts it well: "​​Low-income and Black communities have historically suffered the consequences of pollution and public health risks, and D.C. residents, more than half of whom are people of color, have experienced this environmental racism for generations — yet have been denied the full representation in Congress needed to address it."
Lack of representation operates on two levels: D.C. residents have less of a say in national policy and, because of the lack of home rule, they also do not have full local control. There are concrete ways this has played out regarding environmental policy which gives insight into the nexus of environmental and racial justice issues. 
The 1972 Coastal Zone Management Act is a prime example of how D.C.'s lack of representation excluded the District from some federal resources that could have played a vital role in protecting it from flooding. Jack Abbott Miller, the former Communications Director for Congresswoman Eleanor Holmes Norton (D.C.'s non-voting representative in the House and a vocal advocate for statehood), explains "D.C. didn't have full home rule by then, so [the act] doesn't give DC any funds to address flooding. But we're sitting here in between the Potomac and the Anacostia in a swamp." 
Year after year the act gets renewed, which "adds up to billions and billions of dollars that DC just never got because of our status." In this example – one of many – both D.C.'s limitations in advocating for itself in Congress and the impact of its partial home rule status are at play in leaving D.C.'s residents vulnerable to flooding. 
Statehood advocates are also quick to point out that D.C. is an overwhelmingly progressive city, leading the country on reproductive justice, addressing gun violence, marijuana legalization, and climate policy. There is a robust movement for 100% renewable energy, clean water, and divestment from fossil fuels in D.C., explains Matt Uhalde, one of the lead organizers for statehood in the Sunrise D.C. chapter. 
Yet, even as residents strive to enact the legislation they support, Uhalde continues, "there is so much congressional oversight on our local legislature and our courts, that we don't have the same ability to enact policy and legislation to address our local issues the way that states do and other communities do. And that is a problem for us. As the climate crisis gets worse, and there needs to be a local response, and we don't have the same power of self-determination that the other 50 states do." Any piece of climate legislation passed by the D.C. council is vulnerable to intervention by Congress.
D.C.'s progressive values are also not being represented in Congress. "We're missing two votes on some of the most pressing pieces of pieces of legislation in the halls of Congress," says Jamal Holtz. To some extent, this is just a numbers game, argues Jack Abbott Miller: " I don't think it's a question that President Biden's environmental agenda would have passed, because it would take the Senate from 100 Senators to 102. And in that world, you need 51 votes to pass." 
Aside from the political strategy, "DC should be a state because people deserve equality and representation. Not because it will help us pass bills in the Senate," Miller is quick to add. To Miller, it is simple, "representation for 700,000 more citizens of the United States would lead to a better functioning, more representative democracy; our system would just work better."
While many DC residents are familiar with the statehood issue, few appreciate how racism lies within its historical roots.   
If D.C. were to become a state, it would be the first majority-minority state in the nation. While D.C. has never been a state, it was originally granted home rule, meaning that voters (white males only) could democratically elect their own city legislature and mayorship.
It was not a coincidence that this moderate amount of democracy was curtailed a year after the Fifteenth Amendment extended suffrage to Black men. It took a century for D.C to regain partial home rule in 1973, providing for an elected mayor and a 13-member city council. Still, any legislation that the council passes can be overturned by Congress, and Congress can pass legislation directly affecting D.C. residents without their say. 
Why are D.C. residents continuously denied democracy–whether by home rule or by statehood? Jamal Holtz, a D.C. native and political activist for statehood, is unequivocal: "It is to prevent us from reaching true Black political power." Granting Black citizens representation, Holtz reminds us, was always at the heart of the statehood question.  "The majority of states became states under the understanding that if there was one additional free state, there would be one additional slave state." 
Moreover, when the highly indigenous territory of Hawai'i was up for statehood, people argued that the culture of the majority Black and brown population did not reflect America. Holtz explained the same is said about D.C. today, though usually coated in racist dog whistles, such as "D.C. doesn't have car dealerships or airports or rural space." 
Put another way, Annemarie Cuccia, a Georgetown student advocate for statehood and campus organizer, points to rhetoric that was popular just a few decades ago:  "a majority-minority city could not govern itself." The racist logic is clear. 
---
If D.C. could unilaterally make itself a state–or else it would, as 78% of residents voted in a 2016 referendum to become a state. But it cannot do so. Congress must grant D.C. statehood while maintaining a neutral zone directly around the seat of government as prescribed by the Constitution. 
Since statehood depends on other congresspeople to act, most advocacy involves educating people outside the district and getting their representatives to act. For those of us in D.C., Holtz provides a sharp reminder: "Don't just come here for the shiny objects that you know, without actually seeing how those shiny objects are disenfranchising D.C. residents every day. Those same governing bodies are the governing bodies that are suppressing Black and brown residents in the nation's capital, from their right to vote and protect themselves and their environment."