Re-Made in Cambodia, an Eco-Friendly Fashion Show
Georgetown alumna Alyssa Kardos Loera creates an eco-friendly Cambodian-centric fashion show as a Fulbright Scholar in Phnom Penh.
By Marion Cassidy, Common Home Editor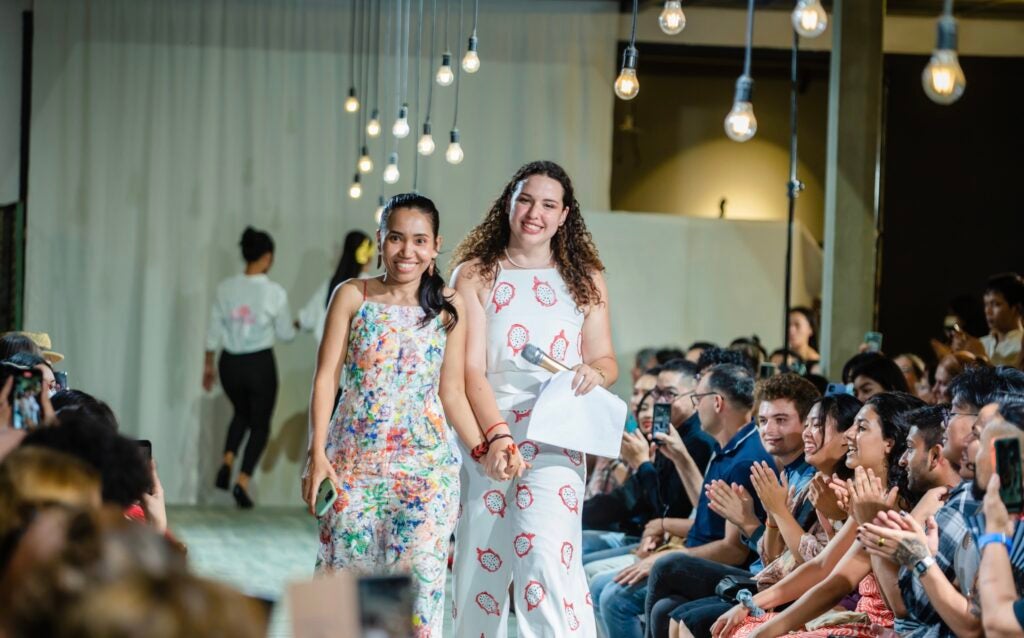 Alyssa Kardos Loera graduated from Georgetown's School of Nursing & Health Studies in 2021 and is a Fulbright English Teaching Assistant (ETA) in Phnom Penh, Cambodia. She recently organized a sustainable fashion show in which clothes were "90% recycled or upcycled and 10% made out of hand woven fabric from villages in Cambodia." 
The event, Re-Made in Cambodia (RMIC), took place on June 11, 2022, and included a runway fashion show and poem recital as well as dance and music performances. 
Kardos Loera's interest in sustainable fashion began when she thrifted her own clothing while at Georgetown, and only grew when she worked at a thrift store in Spain before her Fulbright program began. This experience inspired her to research sustainable fashion in Cambodia and pursue a project upon her arrival.
From the get-go, Kardos Loera knew she wanted to create a fashion show. Her first step in exploring Cambodian fashion was to connect with the local arts community during her introductory month in Phnom Penh, the nation's capital. Kardos Loera first spoke with Cambodian Living Arts, a non-profit working to support arts in Cambodia, who referred her to local artisans. "The process was very much like a tumbleweed in a good way. The more people I talked to, the more people joined the project or referred me to someone else who referred me to someone else."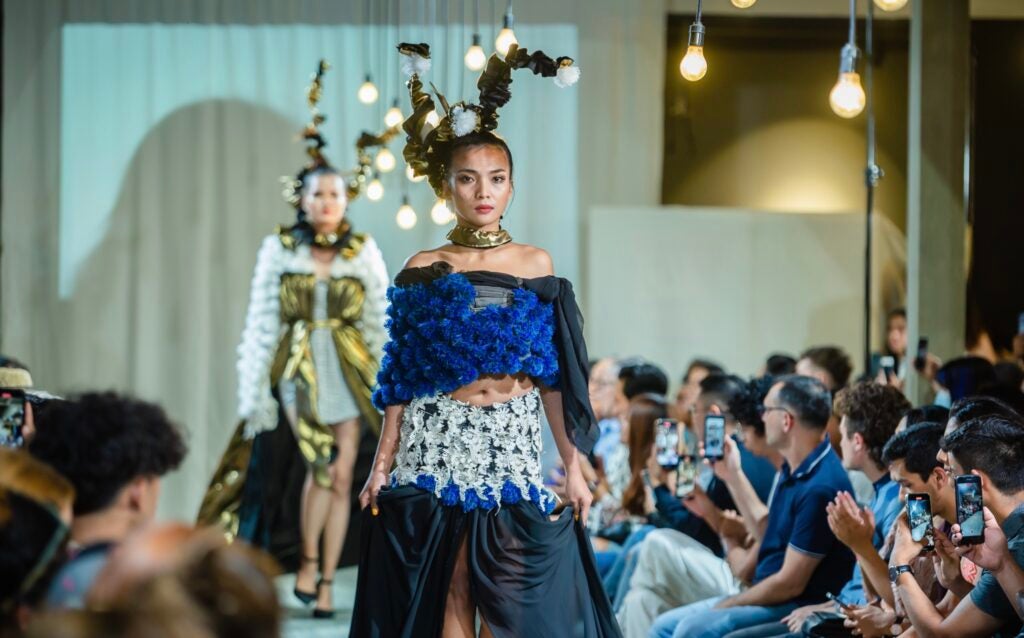 Prior to RMIC, Kardos Loera had no professional fashion show experience, but she did not let that hold her back. She was upfront with all the participants and admitted while some people were originally hesitant, they were drawn in once they heard about the show's eco-friendly and Cambodian-centric theme, which set it apart from other Cambodian fashion shows.
Additionally, the show featured Cambodian designers' work. "All fabrics were designed by at least one Cambodian designer, and there was only one non-Cambodian designer out of the 24. But he worked with someone who was Cambodian, which was important because a lot of the fashion shows here primarily feature foreign designers," Kardos Loera noted.
Kardos Loera wanted the show to be accessible and free, "A lot of the fashion shows are very exclusive, invitation only. The goal of this was very much the opposite."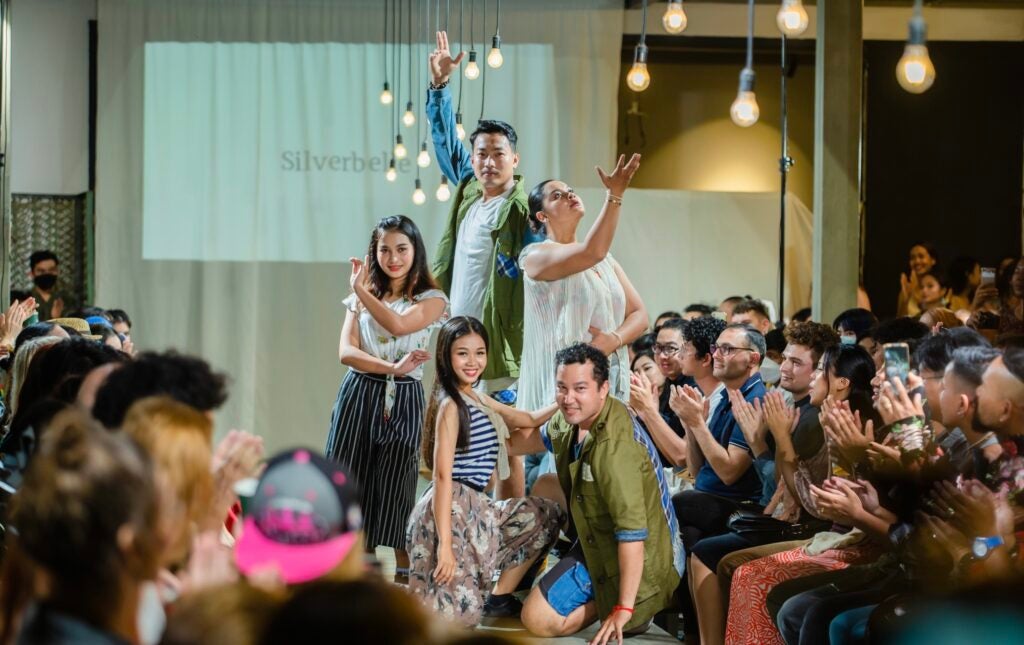 Kardos Loera was first exposed to broader cultural differences between the U.S. and Cambodia in the early stages of creating the show, particularly through the culture of second hand clothes in Cambodia. While in the United States, second hand clothes are primarily clothes people have bought, worn, and then donated, in Cambodia this system is more unusual. 
"Markets will have secondhand clothes, but in different forms than we might see in the United States. Market sellers in Cambodia will buy loads of secondhand clothes often imported from Japan or Korea. So if a factory messes up on one tiny part of a garment, a mistake you probably wouldn't notice, the factory has to get rid of it and so a lot of those clothes end up at markets in places like Phnom Penh. It's very much normalized to not get perfect clothing because many people buy clothes through these markets."
However, fast fashion clothing factories are found in Cambodia as well. In fact, Cambodia has over 550 garment factories in their own country. Out of Cambodia's clothing exports, 40% are sent to the EU and 30% of these exports are sent to the United States. Adidas, H&M, Gap, and Uniqlo all have subsidiaries in Cambodia. In conjunction with increasing industrialization, deforestation has also become more prevalent. In the past twenty years about one third of Cambodia's tree cover has been lost. 
Kardos Loera wishes Americans would think more about where their clothes come from. "I want people to humanize the process of clothing production and think about what needs to happen in order for clothing to be so cheap. Americans are still benefiting from these very cheap exports. It's not because that money goes a long way in this country because it doesn't, clothing and factory workers are very underpaid. People need to think about the standards they have for ethical consumption."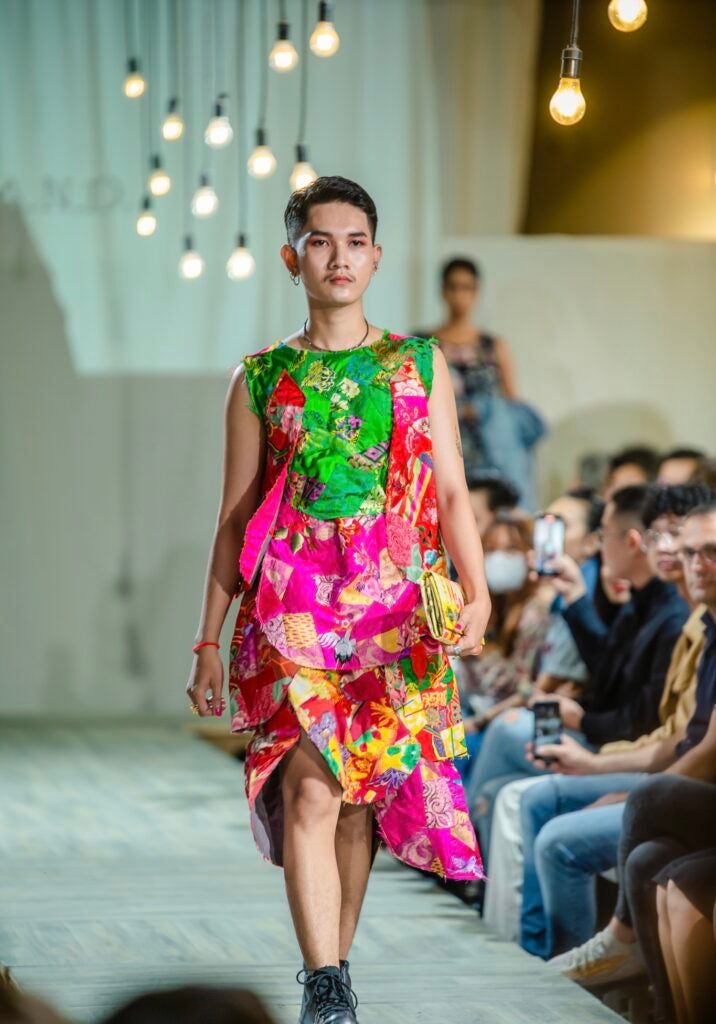 The garment industry is the largest employer in Cambodia accounting for 16% of the country's GDP and 80% of total exports. Therefore, Kardos Loera's focus on sustainable clothes that are made by and for Cambodians was especially important.  
Worldwide, the clothing industry is the second largest contributor to pollution, following oil. "A lot of the artists really focused on this theme of taking what some people call waste, taking what is discarded, and making something beautiful again in a very poetic way that was also a celebration of Cambodian design." 
It's important to differentiate between upcycling and recycling, Kardos Loera explained. "When you stain a shirt it's not gone. You can do more with it than just throw it out. And that's a lot of what these designers worked on, and obviously a lot of what they did was very fashion forward and very technical and cool. But there are small things that you could do to change your clothing, like you can dye it and make it wearable again. It's not just where you buy your clothes from, but it's also how you treat your clothes," Kardos Loera explained. 
Creating a community of like-minded people and artists was a constant theme throughout the event production. Up until two days before the show, there was zero funding. "I wasn't focusing on sponsorships at the beginning because I thought of the show as a community event." The event space, Friends Futures Factory, partnered with Kardos Loera and offered the space and marketing services for free. Makeup, hair, choreographers, backstage crew, and catering were also donated. "I couldn't believe everyone gave all their time and did everything for free, it was incredible."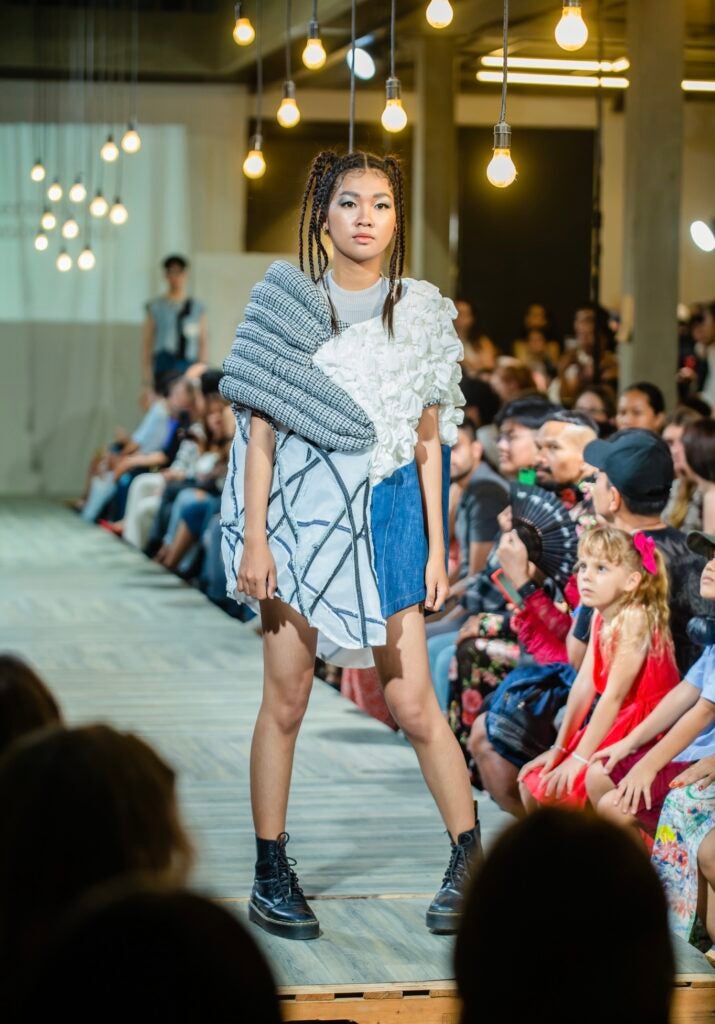 The event did raise money from visitor donations which went towards paying the artists, but was not enough to compensate everyone to the extent Kardos Loera wanted. The goal for additional shows is to have a sponsor to ensure everyone can access and contribute to the project without financial burden.
"I learned so much about humility throughout this process," said Kardos Loera, "I learned a lot from the way that people worked and the way people gave their time, their creativity, and everything. I was very personally affected by it."
Kardos Loera explained there are plans for the fashion show to become an annual event, "when the fashion show no longer becomes a unique event, because of its sustainability, focus on Cambodian designers, and accessibility to the public, that's when I think it will no longer be necessary."