Leading with Empathy
Founders of LubDub Theater Company Caitlin Nasema Cassidy, Geoff Kanick, Robert Duffley, and Miranda Rose Hall shared their creative process and commitment to environmental work.
Author: Marion Cassidy
At the intersection of art and environmental awareness, New-York-based LubDub Theater Company performs immersive shows that respond to climate change. Playwright and Georgetown alumna Miranda Rose Hall, one of the founding members of LubDub, was named a finalist of the Susan Smith Blackburn Prize for her play A Play for the Living in a Time of Extinction, which Lub Dub commissioned and developed. The play is currently being filmed for its digital premiere this summer.
LubDub grapples with the heavy and overwhelming nature of environmental crises. The team is the first to admit emotional trauma as this scale can be overwhelming. "Once we dove in, there was no bottom…it's asking so much of us emotionally to process and wade through all of it," Caitlin Nasema Cassidy expressed.
Amitav Ghosh's non-fiction book The Great Derangement was LubDub's call to environmental action. Ghosh called for artists to become involved in conversations of climate, to help people who don't have a scientific background to have an embodied relationship with what's happening with the environment. After extensive deliberation and research, the troupe decided they will commit to environmental issues for at least the next four years. 
But how to translate environmentally informative messages into their theater in a way that was accessible and authentic? How to get people to care about environmental issues, rather than shy away from them? These creative challenges loomed large. And, moreover, many people look to the arts—particularly theater—as a form of escapism, to watch an entertaining performance passively in a dark room. 
Miranda Rose Hall wrote A Play for the Living in a Time of Extinction in response. It asks the fundamental question: what does it mean to be human in an era of man-made extinction?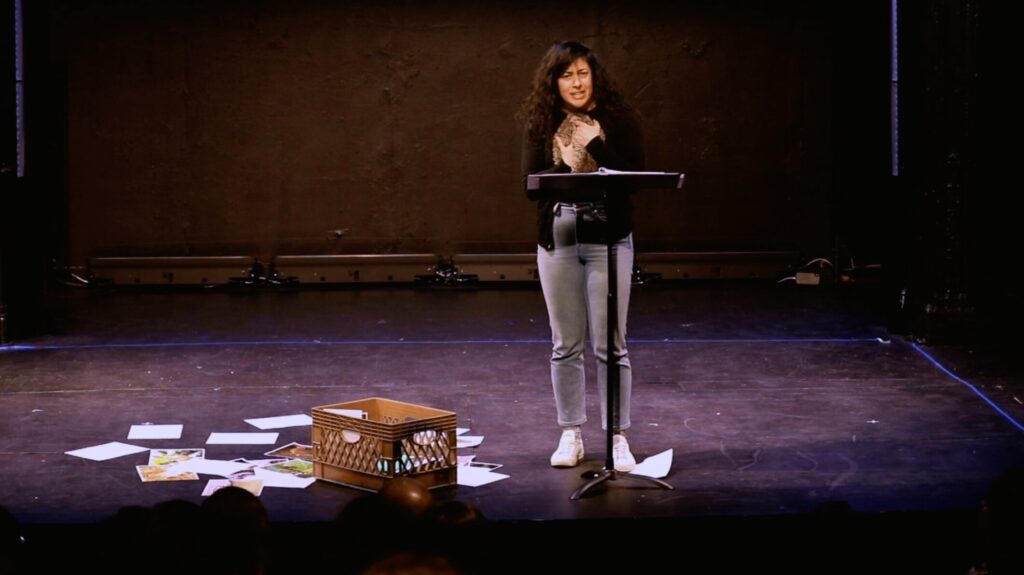 Hall had the "wind knocked out of [her] about extinction and the crisis of biodiversity and mortality." Her play was an attempt to process the grief, rage, and confusion she felt when immersing herself in studying environmental crises. "I can't be the only one who feels this way, and I have to figure out how to deal with it," said Hall.
While environmental issues are often treated as symbolism or overly dramatic events in works, Hall sought to "make imaginative fiction that can contend in a more honest, authentic and upfront way with matters of climate crisis." 
A Play for the Living in a Time of Extinction embodies the unique power of theater to engage in social criticism—and, powerfully, to create empathy. The "personal as political" is a central to the troupe. 
"When LubDub committed to climate work, we heard activists calling for local stories and smallness. We took that seriously, we are trying to listen and be in conversation with the folks who are on all of those sides of the revolution. That's how I see us fitting in to the ecosystem," Cassidy elaborated, "the reason I do theater is because I believe fundamentally that it teaches us how to be in the world."
Because of the complexity and mental anguish that environmental issues may cause, LubDub aims to infuse joy and lightness into their theater, translating their message to the stage without being judgmental. Duffley explained that LubDub's plays "don't ask you what you are going to do––they ask are you there, are you with us, are you present and in this space." And LubDub's creative team understands the struggles of non-scientists like themselves in grappling with these issues. This connection with people is vital to the environmental movement and critical to the foundation of LubDub's work.
Directly engaging with their audience is a tool they use to build this nonjudgmental, inclusive experience. "Fourth wall breaking communal invitations are at the heart of what we do," said Cassidy. Duffley said they try to "make a space where people can admit and laugh at the fact that environmental issues are stressful, and we often don't know what to do." 
Joy and lightness only grow when they are shared with others, and Cassidy emphasized that "there is huge power in joy and lightness and humor. For too long we have seen those things as less powerful. I think they are actually potent and vital to the sustainability of the work." After all, "It's a super power of theater and the arts to make emotional arguments. Science is logic based, and you need to balance logic with emotion. Theater is a perfect place to make emotional arguments through laughter, compassion, or even just saying 'Hello neighbor, we're in this together'," Kanick added. 
Hall voiced that "the theater has a lot to figure out about the ways that it tells stories about the environment and the natural world, because it's such an indoor art form. Theater relies on a lot of artifice and non-natural elements, at least the way that we practice it primarily in the United States. So it can be sort of confusing to be on a stage in the dark with a ton of bright lights and be like, remember trees? There can be a complete disconnect."
The theater group recognizes the irony in its outdoor-commitment. Yet they question this widespread assumption that climate only exists outside the human body. Rather, it is inside of us. With these elements in place, LubDub wants people to walk away from A Play for the Living in a Time of Extinction feeling a deeper sense of care and personal connection to the natural world. 
Georgetown features prominently in LubDub's origin story. Cassidy, Duffley, and Hall all met at Georgetown (and they affectionately named Kanick as an honorary Hoya!) and participated in theater there. The group has deep roots with Georgetown's Laboratory for Global Performance and Politics, such as a 2019 performance at "The Gathering," which brought together visionary artists from more than 40 countries to celebrate the power of performance in addressing global challenges. 
Reflecting back on Georgetown, Hall traces her civic engagement to the theater department's emphasis on political discourse. "Georgetown is such a politically active community with national and global concerns. It's a really special theatre training to be considering art within the context of a community that's thinking deeply about political matters here and abroad and is looking to foster the conditions for deeper civic dialogue. Not everybody comes up in that context, and I feel very lucky to have come up that way." 
A couple years after graduation, Cassidy and Kanick met when working together on productions in London, England. The communal aspect of British theater, which incorporates dance and circus and actors often perform multiple shows together, excited the pair. Productions in the United States, in contrast, often bring together independent contractors who disperse once the curtain closes. The LubDub members thus created their own sustainable theater community of regulars that would keep people coming back. 
Professor Peter Marra, the Director of the Georgetown Environment Initiative, explained that "people have different windows of understanding with which they view and can appreciate things in the world. In our current declining environmental state, we are in a race to open these windows of understanding about why the environment and the species it holds matter! Theater, and specifically the work of LubDub, opens these windows for more and more people to engage around nature." 
Indeed, Miranda Rose Hall hopes that audience members feel "they were able to metabolize something difficult through a communal narrative experience." While LubDub has committed to four years of environmental work, Kanick acknowledged that environmentally aware theater "will always be a conversation we have for the rest of our lives."