Going GREEN at Georgetown
Georgetown Renewable Energy and Environment Network
Author: Sadie Morris, SFS '22 & Common Home Editor
On Tuesday nights a crowd of nearly sixty students convene in one of Georgetown University's oldest buildings. Buzzing with excitement, the students are there to discuss and organize around far-reaching environmental and sustainability issues. This is the weekly meeting of the Georgetown Renewable Energy and Environment Network, known as GREEN. 
The meeting starts with ten to fifteen minutes of announcements or presentations from group members. After that, the club breaks off into smaller groups arranged into Education, Gardening, Energy+Water, Environmental Justice, Zero Waste and Beekeeping committees to do more specialized work.
The wide-net is intentional, says Anu Lamshal, the current GREEN president: "The large amount of things that we do within GREEN allows us to kind of put our hands into a little bit of everything–both student life and the administration."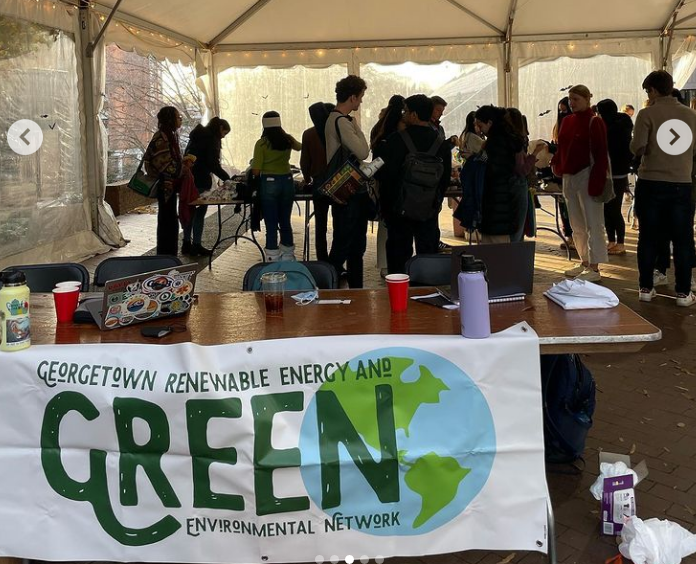 GREEN sees itself as a checking mechanism for the university administration, advocating for more sustainability on campus as well as transparency around both current conditions and previous environmental promises. For example, two important initiatives that GREEN is working on are a follow-up to the university's 2020 commitment to divest from fossil fuels and efforts to reduce the amount of single-use plastics in campus dining options. 
Though GREEN has a longstanding relationship with campus administration, Anu reports cooperation can still be strained and frustrating: "It's often quite hard to actually get a response from the administration. We have to send an email, a follow-up email and other follow up emails. It takes a lot of persistence" Anu explains.
It is important to remember, she adds, "We do work with the administration, but we're advocating for students and not necessarily trying to become a partner with the administration."
On a more structural level, GREEN is working to reckon with the perceived historical whiteness of the environmental movement–on and off campus–by grounding the organization's work in environmental justice.  
Three years ago, a new environmental justice committee was formed to discuss and organize around the intersectionality of environmentalism, though GREEN is working to integrate environmental justice principles and practice into all levels of their work. 
GREEN strives to meet the needs of its members by adapting to reflect the current student body and the environmental movement at large, embracing all of the diversity and complexity in environmental activism.

One way GREEN engages with this task is by partnering with other student organizations across campus to create opportunities for students to engage in environmental topics in new ways. 
For example, GREEN recently co-hosted a discussion with the Native American Student Congress on Land Back and indigenous environmentalism. Another event focused on the intersection of environmental and disability justice.
The series has opened up some important discussions but it can be challenging, Anu says, "to ​​keep people engaged and prevent people from shutting down when they are faced with the harder issues."
As the organization works to break down barriers around entry to the environmental movement, the makeup of GREEN is also beginning to shift. Their board is now majority POC–a visible move towards creating a more inclusive and comfortable space. 
"I think people should be optimistic," Anu concludes. "GREEN is becoming a lot more of an accessible space for a lot of different students and it's fostering community in a way it hasn't in the past." Key to this change has been the willingness to explore how environmentalism interacts with other components of our identities and livelihoods. All the while, GREEN has still made progress on more traditional environmental efforts like community gardens, single-use plastics at Leo's, and more.