Rising Risk of Extreme Heat on Health in the District
By Ursula Gately (COL '23)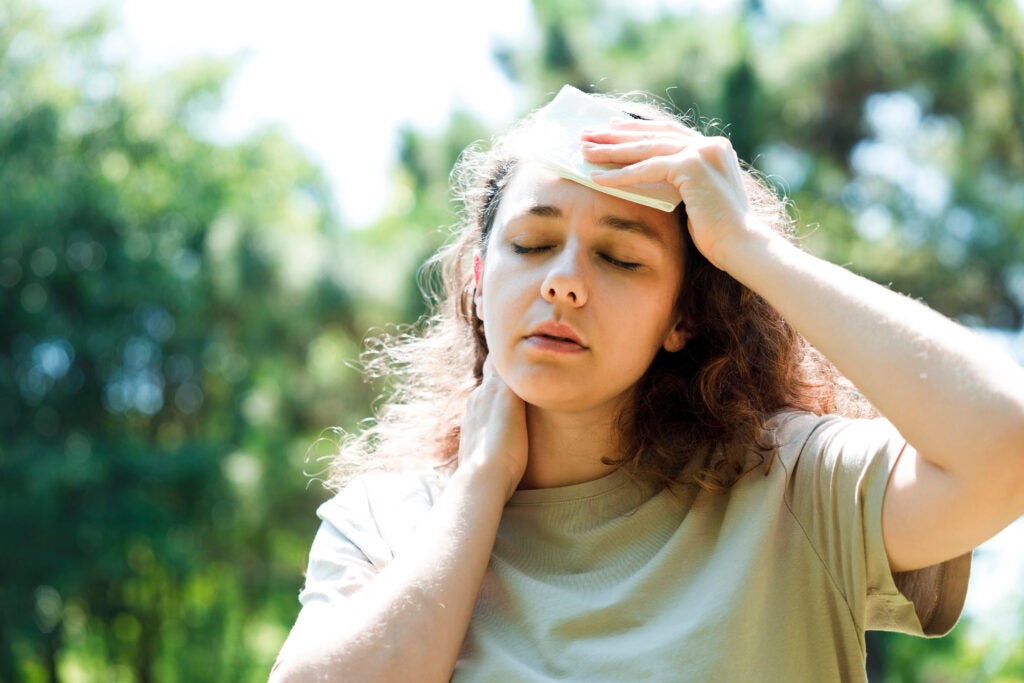 If you were in DC this summer, you know that the District was boiling. With mid-to-high 90ºF+ weather, it became increasingly important to seek out cooler indoor spaces to protect from the effects of extreme heat. For the first time in six years, DC almost hit 100ºF temperatures, a rare occurrence, even as the "feels like" temperature hit much higher. What has led to an increase in these hotter days throughout the DMV? 
Extreme heat is defined by the EPA as weather which is much hotter than average for a particular time and place. This is measured through the heat index, which takes into account how high the temperature is in a place, as well as how hot it feels when humidity is factored in. We are seeing an average temperature increase both around the world and in the United States. As extreme heating events become more common, we run the risk of increased occurrences of heat-related illnesses. 
​​The spectrum of heat related illnesses range from mild heat exhaustion to potentially fatal heat stroke. While all DMV residents can be affected by heat exposure, some populations are at particularly elevated risk, including the elderly, infants, pregnant women, athletes, outdoor workers, and unhoused individuals. Extreme heat can exacerbate pre-existing conditions and health disparities.
Exposure to heat is also influenced by historically racist housing policies that can cause temperatures within a single city to vary by as much as 13ºF. According to DC Policy Center, summer temperatures in the District can vary from 76ºF in Rock Creek Park to 102ºF in Ivy City, Trinidad, and the Navy Yard. One reason this trend occurs is that these neighborhoods have fewer trees and more impervious surfaces, which do not allow water to pass through (asphalt, concrete, brick, stone). These artificial surfaces make the streets more susceptible to extreme heat.
Heat exposure has also been associated with decreased academic achievement in students and increased aggressive behavior. The relationship between heat and interpersonal experience are complex and some people spend their entire careers researching them. The nuance of these connections lies in the indirect influence of heat on social systems, and at times are hard to explain or navigate given the many ways in which they impact our lives.
One example might be that hot temperatures can make a person feel irritated, as they find themselves sweating through their clothes on the walk or bike ride to work, which could lead to heightened emotional responses or combativeness throughout the day. As temperatures rise due to climate change, the adverse effects of heat on health are expected to rise. Given the direct and indirect implications of extreme heat on public health, more work needs to be done to assess the relationship between rising temperatures and peoples' wellbeing. 
This understanding is especially important as the frequency of extreme heat intensifies, anytime DC temperatures hit 95ºF, Mayor Bowser declares a Heat Emergency. DC hit this temperature over twenty-four times this summer. One way local government is working to mitigate the effects of extreme heat on residents is by releasing a Heat Emergency Plan. The plan outlines ways in which individuals can keep cool, referencing five low barrier cooling shelters and forty-four recreational, community, and municipal cooling centers. However, during a recent heat emergency, Street Sense Media reached out to all of the cooling centers listed in DC's cooling plan. They received information that only twenty-five of the forty-four cooling centers were open during heat emergencies with sixteen unsure of their status and two indicating for one reason or another, which were unspecified by Street Sense Media, that they were not intended to be used as cooling centers.
Moreover, cooling centers may not always be within close proximity to individuals experiencing extreme heat. This is exacerbated by the fact that they are not often well understood or advertised. The city must play a larger role in advertising and increasing awareness around cooling centers and resources to combat extreme heat.
At Georgetown, this past summer a group of students, including myself, founded the Georgetown Undergraduate Environmental Health Collaborative which recognizes the effects of environmental issues like extreme heat on human health. Led by Mark Kuo (COL '24), the group is set to launch this fall, with additional founding members including: Urooj Ahmed (COL '24), Alex Bamford (COL '23), Amber Mickelson (COL '25), Minoli Ediriweera (COL '24), and Shreya Kalra (Health '25). Our group was awarded a grant from the American Public Health Association (APHA) to host a series of events in September focusing on the intersection of extreme heat and public health issues in honor of the APHA's 150th anniversary. 

Our Climate Health in the District Weekend was centered around educating the Georgetown community about environmental health in Washington D.C. and providing students with opportunities to protect the planet and their health. 
On Friday, September 16th, students gathered in Georgetown's Red Square to make blankets for unhoused people around D.C., which we will donate to be used during the winter months. This event is meant to embody Georgetown's core value of cura personalis, care for the whole person, as students get the opportunity to aid the larger D.C. community. 
On September 17th, there was a panel on extreme heat and health with experts like Jeanne Braha, the executive director of Rock Creek Conservancy, and Samantha Adhoot, MD, pediatrician and founder of Virginia Clinicians for Climate Action, a nonprofit focused on advocacy work on environmental health at the state and government level. The conversation was geared at engaging each expert's background in environment and health to foster dialogue on environmental health in the DMV. 
Finally, on Sunday, September 18th, students were invited to engage in a service project to remove invasive species at Whitehaven Parkway. The John Main Center for Meditation and Interreligious Dialogue also offered a meditation, which I led, to provide students with the opportunity to connect environmental health and wellbeing to contemplative practice and reflect on the weekend as a whole. 
I would encourage interested community members to use the resources below to learn more about this topic. 
Resources:
Street Sense Media maintains a spreadsheet and map of operational cooling centers
DC's shelter hotline is 311 or 202-399-7093 and can help arrange transportation to a cooling center or shelter for people experiencing heat-related illness and exhaustion
Get notifications via text or email from AlertDC's portal on heat emergencies 
Read up on DC's Heat Emergency Plan
For more information, visit heat.dc.gov
 Further reading list about rising heat waves and how that connects to environmental justice