Earth Day with Earth Commons
Voices on the Environment Series: Intergenerational Justice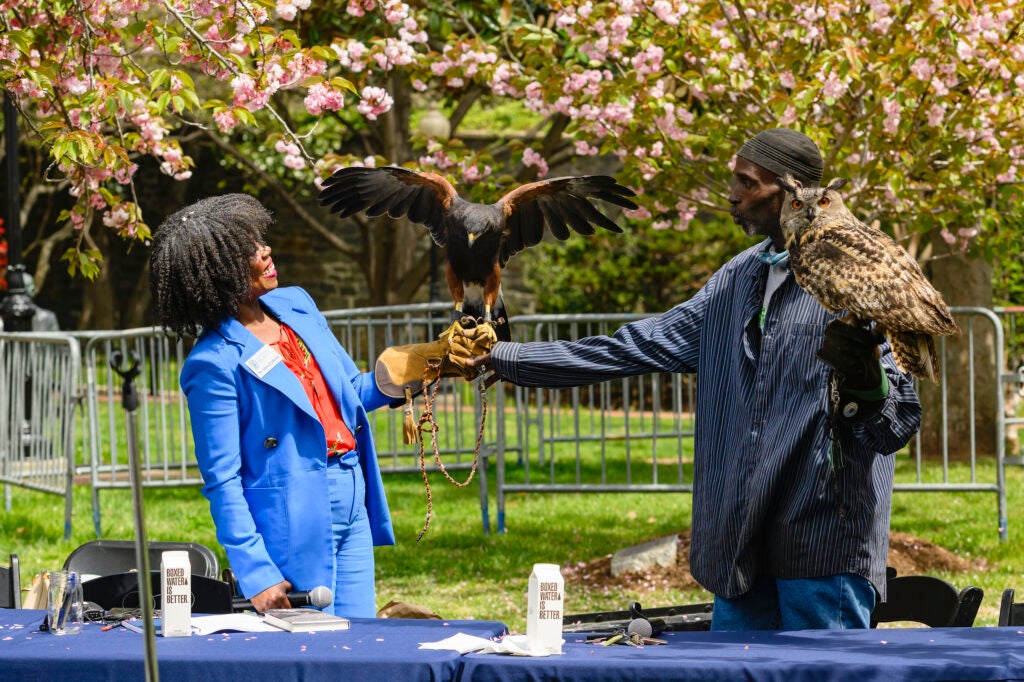 Voices on the Environment is a multi-year event series at the intersection of science, the humanities and the arts with the environment at its core. 
This year's theme, "intergenerational justice," focuses on the duties that present generations have towards future ones. The series links environmental journalism, literary writing, activist performance, and critical approaches to climate change, among other channels. 
Through the lens of justice between generations, climate change raises particularly pressing issues. Which risks should people living today be allowed to impose on future generations? How could available natural resources be used without threatening the sustainable functioning of the planet's ecosystems?  We are confronted with the urgent ethical issue of how to balance the rights of future generations with those of today.
Collaborators include the Earth Commons, the Georgetown Humanities Initiative, the Lab for Global Performance & Politics, the Office of Student Equity & Inclusion, and the Office of Sustainability.
Indigenous Philosophy + Sustainability
How might Georgetown's sustainability plan align with Indigenous philosophy? The Office of Sustainability explored this question with Georgetown Professor Shelbi Nawhilet Meissner, who specializes in American Indian and indigenous philosophy, particularly as it relates to language, knowledge systems, and power. 
The discussion explored how the sustainability plan might center indigenous philosophy, and steps forward for future relationships with the university, the environment, and the community. 
Bird Brother: Dialogue with a Bird Expert & Environmentalist
Earth Commons hosted Rodney Stotts, a master falconer and a licensed raptor specialist and – to the great appreciation of the attendees – several of his raptors. With mouths agape, Georgetown students gazed into the dark eyes of a peregrine falcon, XYZ perched on their extended arms, talons holding their muscular bodies steady. 
While Mr. Stotts' raptor demonstration was a once-in-a-lifetime event, the participants learned falconry does not only impart awe; it's a powerful force for positive change. 
Conservation is a key driver for Mr. Stotts, who infused the community event at Georgetown with deep knowledge and discussion of his recent book. Falconry can strengthen raptor populations and keep the population healthy, he shared. 
D.C. is home to numerous species of birds of prey, from the falcon family (Peregrin falcon and American Kestrel) to the hawks (such as the Cooper's hawk, red-tailed hawk), harriers, kites, and our national bird, the bald eagle, but most DC residents are unfamiliar and disconnected from the species. As Mr. Stotts bringing people face-to-face with raptors, he builds a bridge to caring, and conserving, the special birds. 
Mr. Stotts is as passionate about contributing to his human community, particularly in mentoring youth in Southeast Washington D.C., as he is about strengthening the raptor communities. Mr. Stotts (who is fondly called "the Bird Brother")  was drawn to falconry because it is a conservation pursuit that could cut across barriers of color, socioeconomic levels, and ethnicities. As he discussed with Dr. Adanna J. Johnson, Associate Vice President for Student Equity and Inclusion, Mr. Stotts sees a powerful connection between endangered species of all kinds and local youth who navigate survival in stressed communities. 
He founded his organization Rodney's Raptors to channels the excitement of holding a raptor into transformative opportunities for youth. The D.C. based group creates interactive and educational programing that connect young people to the environment and their community. Through Rodney's Raptors, Mr. Stotts turns what could be a fleeting moment into a long term impact;  "Falconry can help build character, compassion and caring. Its importance is immeasurable. It changes lives." 
"What Does It Mean to Acknowledge? The Philosophy and Practice of Land Acknowledgement"
A land acknowledgement, as the event helped inform students, is a written statement that recognizes and respects that Indigenous Peoples are traditional stewards of a particular land. Georgetown's Shelbi Nawhilet Meissner  asked student-generated interview questions on the topic to Hayden King, Executive Director of the Yellowhead Institute and Advisor to the Dean of Arts on Indigenous Education at X University. The conversation explored what land acknowledgements mean in today's political climate and how or if they can be improved. 
The two experts in Indigenous thought addressed the philosophy and practice of land acknowledgement today. They investigated the diverse meanings of "acknowledgement." The word carries multiple definitions; on the one hand, a statement of truth that is legally binding; on the other, merely a gesture, which may be empty. 
The practice of land acknowledgements – and acknowledgement more broadly – might deepen material practices of repair, restoration, and responsibility towards the land and its rightful inhabitants. How might that relationship deepen?